U-134 was attacked by K-74 of ZP-21 on July 18, 1943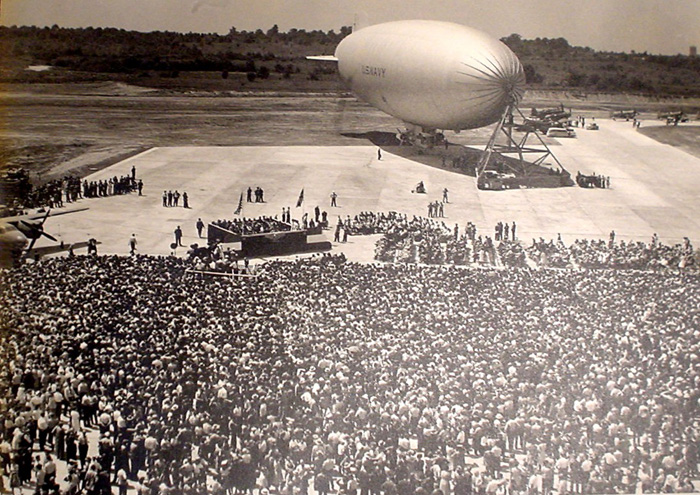 In July of 1943 workers at the Goodyear plant near Akron, Ohio were shown the final product of their labors. Airships were not normally seen at the plant because inflation and final assembly was performed at the nearby 1918 Wingfoot Lake hangar. The next ship off the line, for no particular reason the K-74, roared in and was masted in front of the workers.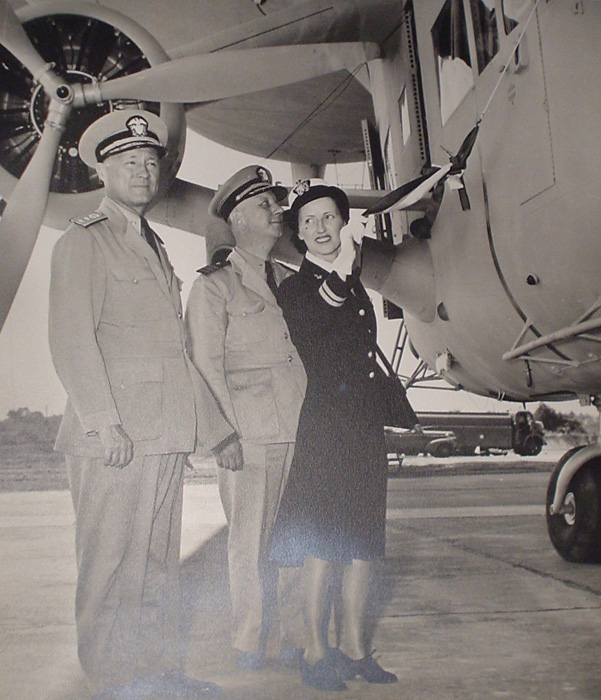 During the ceremonies, LT Joy Bright Hancock, herself twice widowed by the rigid airship program, christened the K-74. CAPT C.V.S. Knox, Officer In Charge of war production at several Ohio plants and a rigid airship veteran, looks on with RADM S.E. Rosendahl, Chief of Naval Airship Training and Experimentation, in from Lakehurst.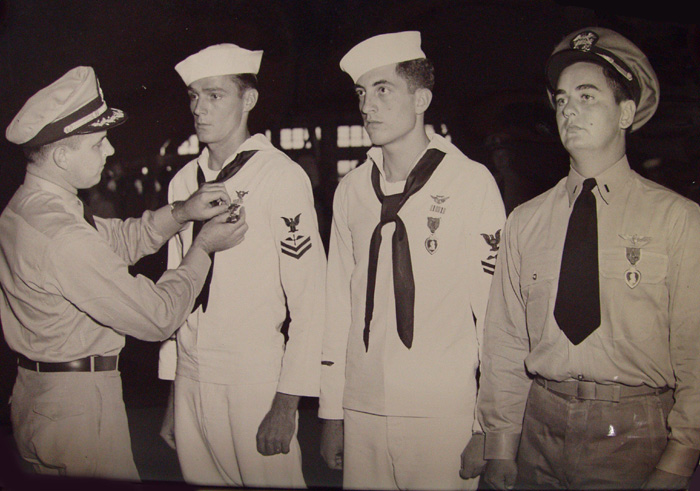 On August 30, 1944, Commander H.C. Spicer, Jr., acting for Commander, Fleet Airships, Atlantic presents the Purple Heart to AMM2/c J. L. Schmidt (at left), ARM2/c J.F. Rice (middle),and Ensign John Jandrowitz, all members of the crew of K-74, for injuries suffered in the action against an enemy submarine. Ensign Jandrowitz was at the controls of K-74 and was commissioned after the attack.
During her final patrol U-134 was attacked by airship K-74 of squadron ZP-21 based at NAS Richmond, Florida. Records and photographs concerning this of this one-of-a-kind attack were generously provided by Richard G. Van Treuren of the Naval Airship Association. See the links below to learn more about the Naval Airship Association and K-74's attack on U-134.
The Naval Airship Association gathers, perpetuates and disseminates the Lighter-Than-Air expertise and knowledge accumulated during the U.S. Navy's development and employment of L.T.A. principles. Click on the icon at left to proceed to the Naval Airship Association website.
---
Click the icons to view the associated records

Messages from Gulf Sea Frontier to COMINCH and Commander Fleet Airship Wing Two concerning K-74 attack on July 18, 1943

Anti-Submarine Action by Aircraft (ASW-6) report completed after K-74's attack
Intercepted message from U-134 concerning the attack by K-74

Reconstructed KTB of U-134 after she failed to return to base

Photographs of airship operations at NAS Richmond, Florida

Photographs of airship operations
Click the icon at left for records and photos of other attacks on U-134 during her final patrol