U-85 was sunk by the destroyer USS SS Roper in a night surface action off the coast of North Carolina on April 14, 1942
The boat was attacked by a VP-82 PBO-1 Hudson flown by AMM1c Donald L. Mason on 28 January 1942 - Mason's first report to his base in Argentia Newfoundland was "Sighted sub sank same"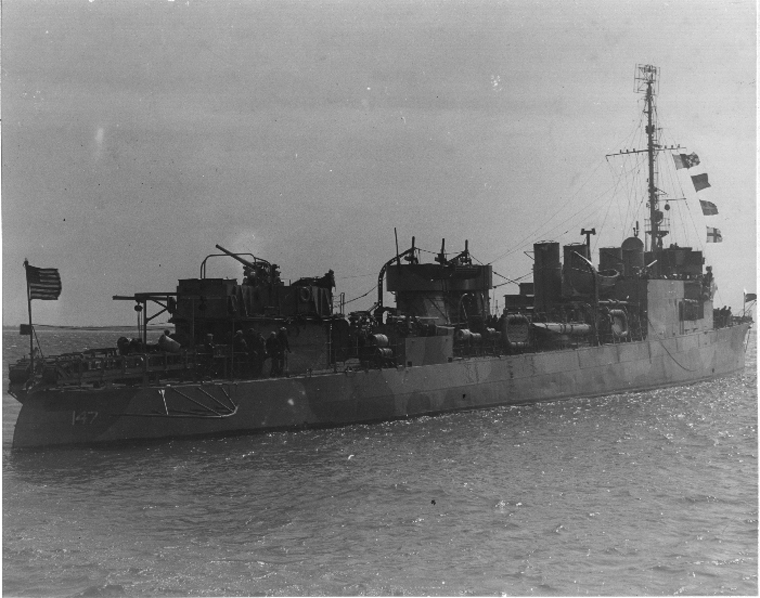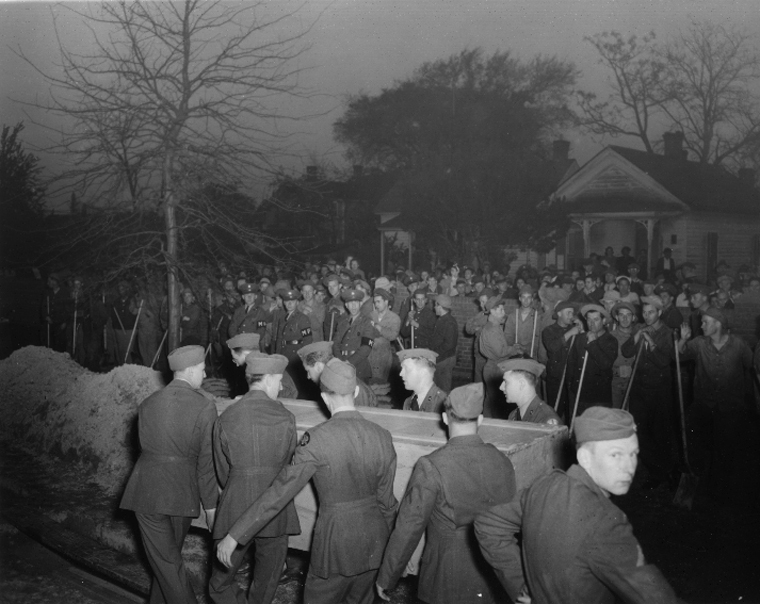 29 sailors from U-85 were buried Hampton National Cemetery, Hampton, Virginia, with military honors, the evening of April 15, 1942. Fifty-two prisoners from Fort Monroe, Virginia prepared and later filled in the graves. At 2000, the burial service was read by the Catholic Chaplin, followed by the Protestant Chaplin. The firing party of 24 seamen fired three volleys, and Taps was sounded.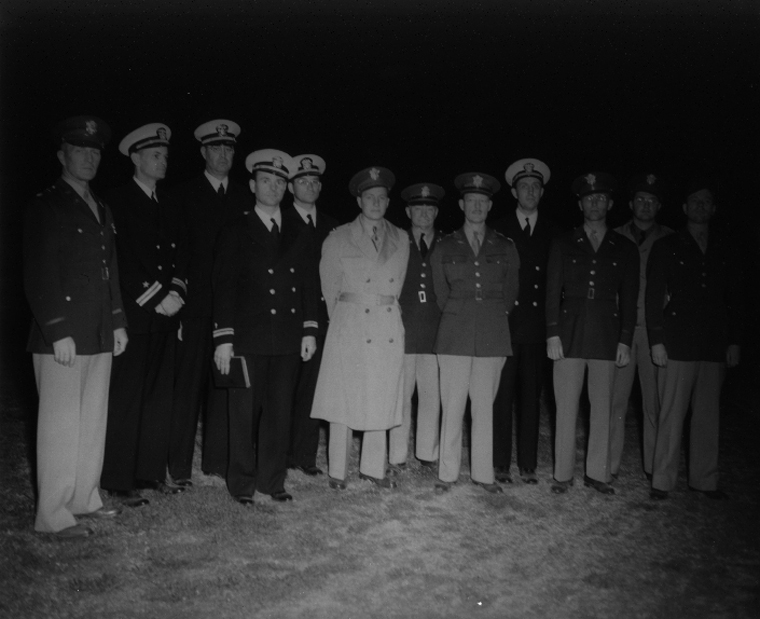 The official party at the funeral included Lieutenant A.J. Bush, USNR, Reporting Officer; Lieutenant Splain, USA, Army Liaison officer, NOB; Lieutenant(jg) R.A. Lunquist, Protestant Chaplain; Major C.P. Wade, Provost Marshal; and eight senior and junior Army officers who acted as honorary pall bearers.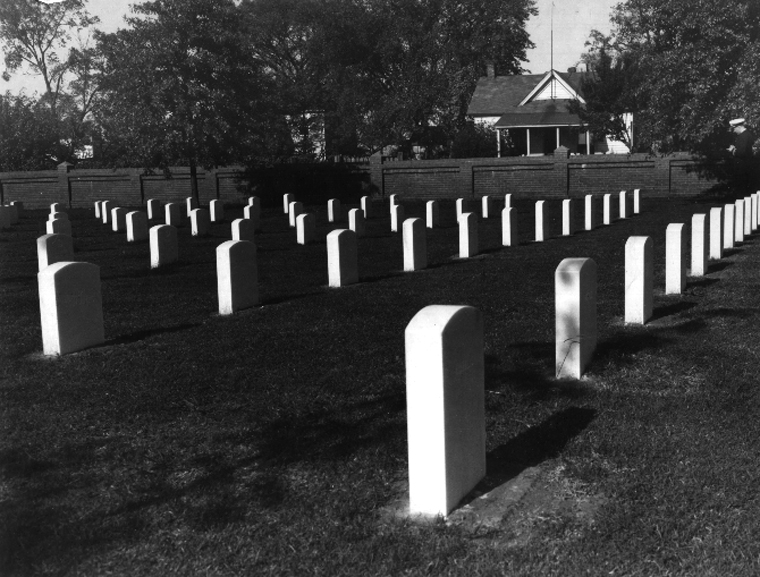 Wartime photo of the graves of U-85 sailors in Hampton National Cemetery
German Remembrance Day Ceremony held annually at the Hampton National Cemetery (usually on the second Sunday in November). The November 14, 2004 ceremony pictured here also marked the installation of new headstones for the U-85 sailors.
The official party (from left to right) 2 German NCOs, Colonel (German Army) Josef E. Schuler (Senior German Liaison Officer to Headquarters TRADOC who delivered the main address), Mr. Anton Stellwag (member of the Tidewater German American Society who gave the concluding prayer in German), Ms. Laura Lieske (who read the German poem "The Good Comrade"), Reverend Dr. L. Lawson Byrd (U.S. Submarine Veterans Chaplain who gave the concluding prayer in English), Chaplain Norbert Achcenich (German Catholic Military Chaplain who gave the invocation), Colonel (German Army) Thomas G. Falkenberg (German National Representative to Allied Command Transformation who made the introductory remarks)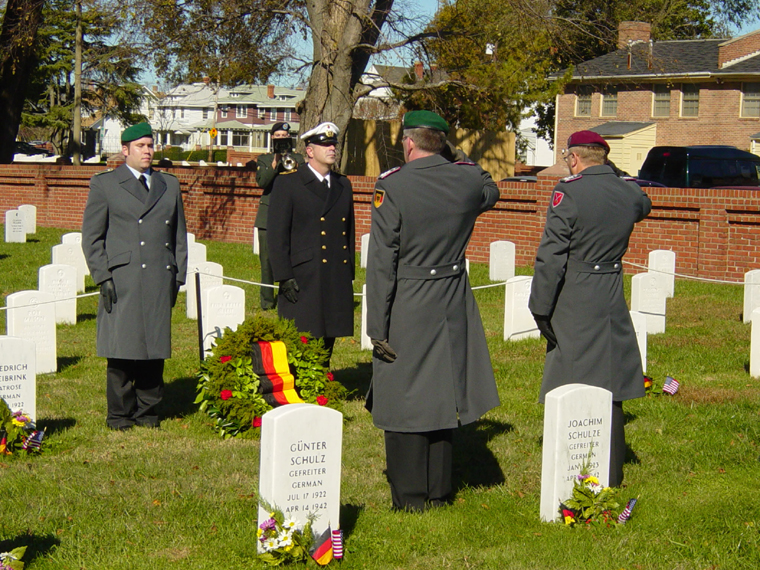 Colonels Falkenberg (L) and Colonel Schuler (R) lay a wreath as a Bugler from the U.S. Continental Army Band sounds Taps
---
Click the icons to view the associated records

VP-82 Report of Engagement with Enemy Submarine with endorsements
United States Fleet File summary of AMM 1c Mason's attack on 28 January1942 noting the first report was "Sighted sub sank same"
Navy Department press release concerning the attack
Action report of USS Roper's attack on U-85
District Intelligence Office, Firth Naval District report on Sinking of German Submarine U-85, disposition of bodies and effects, report on
Photographs from U-85 sailors' effects
Op-16 documents relating to the report on U-85
Op-16 Report on the Sinking of the U-85